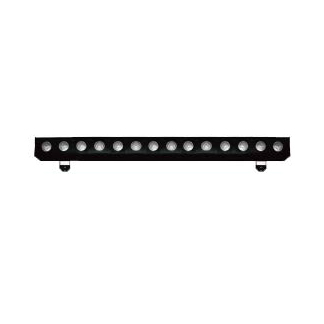 MODEL:PIXARC 14 W-022
The PIXARC 14- is a multi-purpose static luminaire with ultimate linear evolution within our architectural range. The fixture presents a stunning smooth and sophisticated profile, available for different options.It's perfect for all kinds of indoor applications. The fixture is equipped with high performance and high efficiency 40mm PMMA optics that help to give an even optimum light projection for extremely high requirement wall washing. The optics are optional for 15°, 25° and 45° beam angles.
The fixtures is capable of offering pixel mapping advantage. In this way, the lighting designer could program whatever effects they could imagine with color changing and color chasing. The brightness is controlled by the precise driving of the LEDs so that it delivers accurate light output management. The PIXARC 14- is controllable via DMX, auto operation or sound control.The PIXARC 14- is the ideal fixture for all indoor architectural illumination like mansions, theaters, casinos, gardens, shoppingcenters, and entertainment plazas, as well as show venues, TV studios or exhibition applications.
DownLoad
Technical specifications
Light Source

Source:
W-022A PIXARC 1430F:
14*30W 4-IN-1 LEDs, RGBW
W-022B PIXARC 1430T:
14*30W 3-IN-1 LEDs, RGBW
W-022C PIXARC 1418S:
14*18W 6-IN-1 LEDs, RGBWA+UV
W-022D PIXARC 1415:
14*15W 5-IN-1 LEDs, RGBWA
W-022E PIXARC 1410F:
14*10W 4-IN-1 LEDs, RGBW
Flicker free operation
for broadcast TV and FILM
Life Span: 50000H
The life span may vary depending on
several following factors but not limited to:
Environmental Conditions, Power/Voltage,
Usage Patterns (On-Off Cycling), Control,
and Dimming, etc)

Optics

High efficiency 40mm PMMA optics
25° Beam angle (15°/45° optional)
35°Field angle
Stunning light output with high intensity

Colors

Sophisticated multi colors mixed
Even and soft light coverage
with pure mixing
Preset color macros

Strobe Effect

0-25Hz high speed shutter/strobe effect
with variable speed

Dimming System

0-100% Smooth linear LED dimming

Control System

2/4/6/9/56/58(4 colors), 2/3/5/8/42/44(3
colors), 2/6/8/11/84/86(6 colors),
2/5/7/10/70/72(5 colors) DMX channels
USITT DMX-512
DMX512, master-slave,
sound activated or auto operation
Dynamic macro effect with variable speed
12 Internal color running programs,
available for strobe effect together
13 DIY internal color running programs
with background.foreground colors
changeable, available
for strobe effect together
DMX recorder and edit function integrated
Shielded input signal protection for stable
signal without interference
IP65 3-Pin XLR cables IN/OUT

Display Systemt

LED display
4 Control buttons
Display auto OFF

Cooling System

Advanced cooling system
integrated aluminum
Noise free featured

Power Supply

Electronic supply with active PFC
AC100-240V 50/60Hz
Power cables IN/OUT
480W/350W/270W/190W
Power consumption

Housing

Skeleton made of aluminum
and steel metal plates
Front window with tempered glass
Tilt angle manually adjustable
2 Multi-positioning brackets
Exterior finish: Black

Installation

Two hanging points on the brackets
1*Safety attachment point

Operating Condition

Operating positions:
all (device on floor or fixed to a support)
-25℃ to 45℃ ambient temperature
IP20 protection rating

Compliance


CE
2014/35/EU - Safety of electrical
equipment supplied at low voltage (LVD)
2014/30/EU -
Electromagnetic Compatibility (EMC)
2011/65/EU - Restriction of the use of
certain hazardous substances (RoHS

Weight

N.W.: 6.9kg
G.W.: 7.8kg

Dimensions

Product Dimensions:
76(D)*1000(W)*163(H)mm
Packing Dimensions:
170(D)*1140(W)*240(H)mm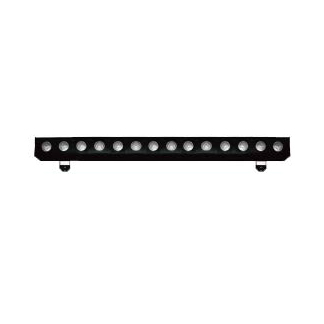 Dimensions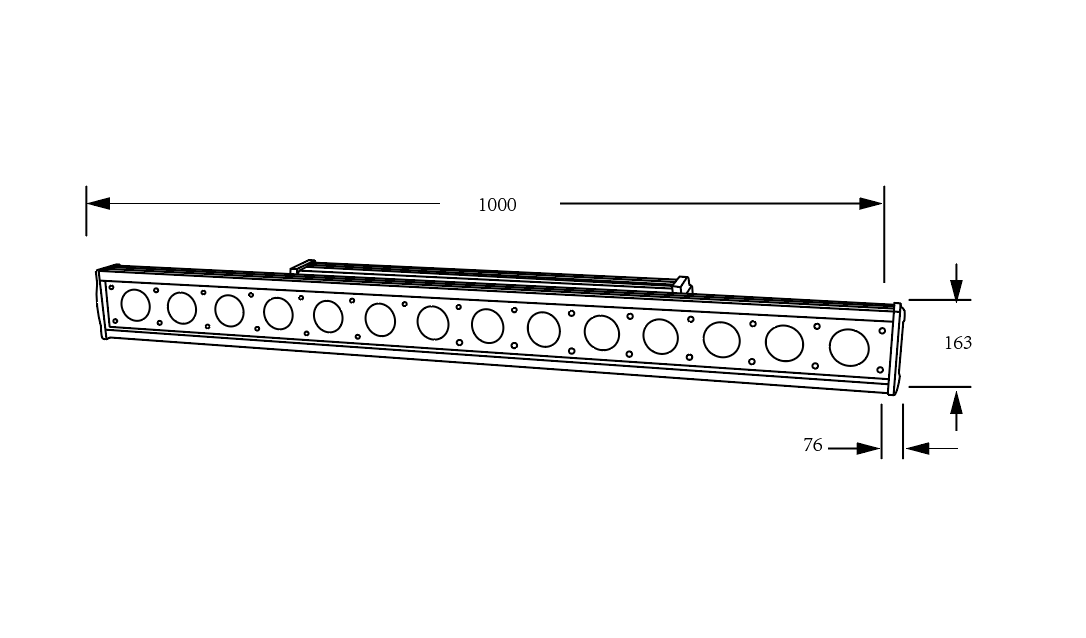 Accessories