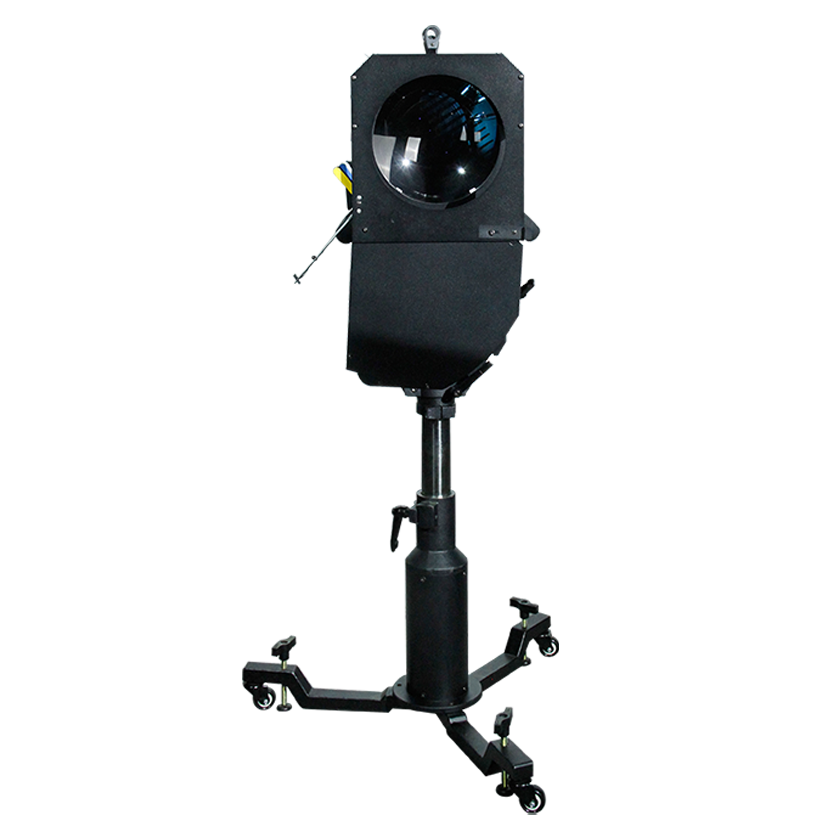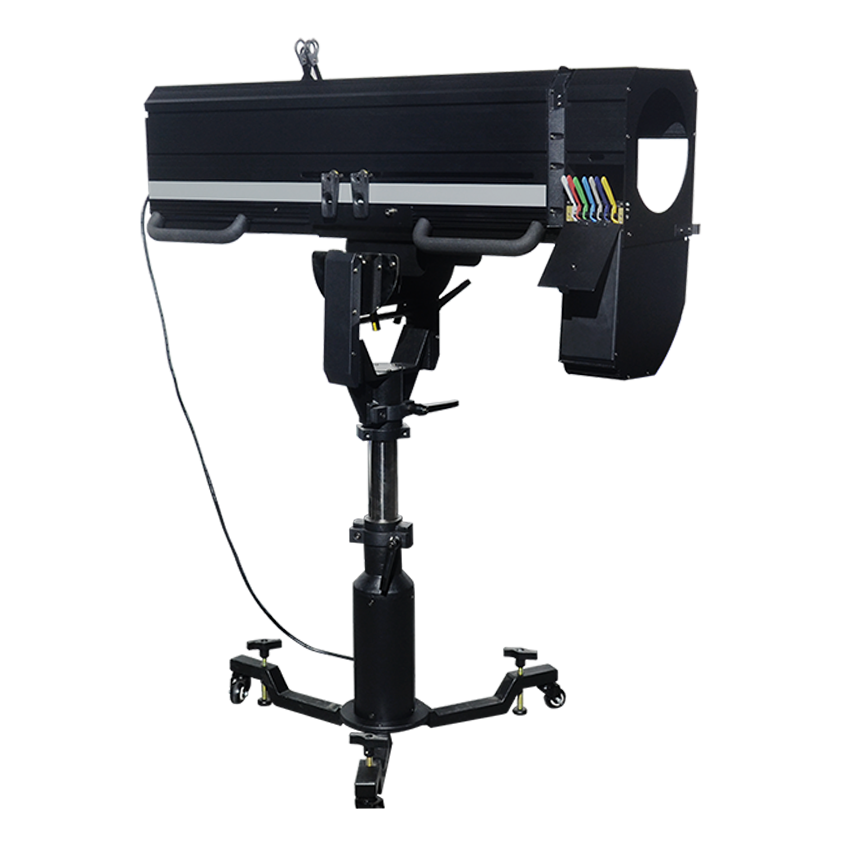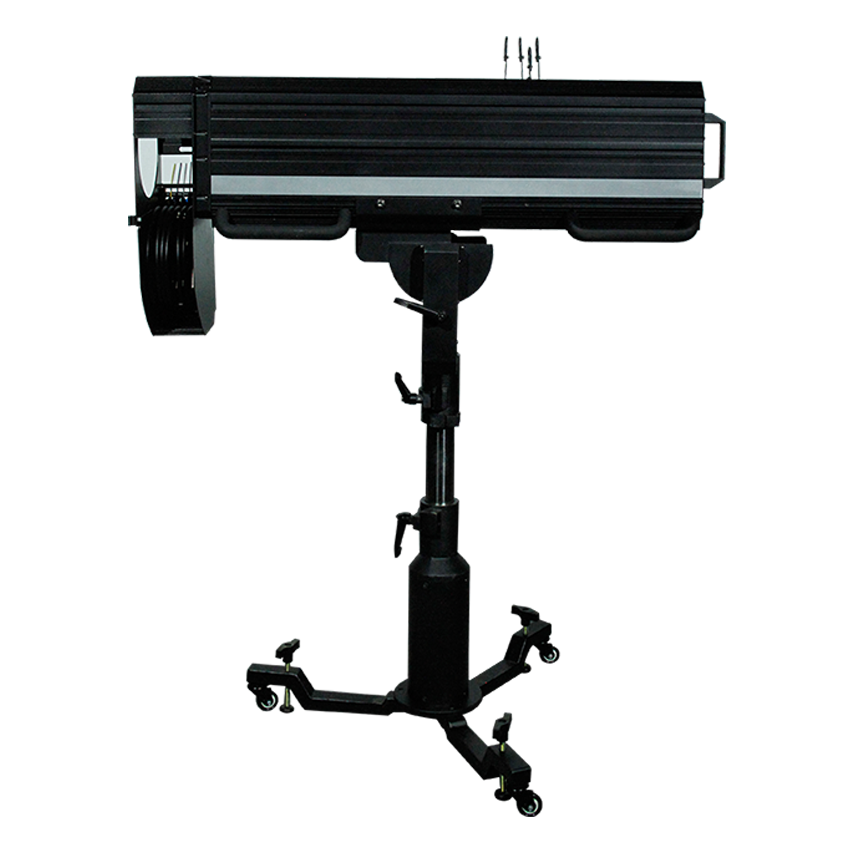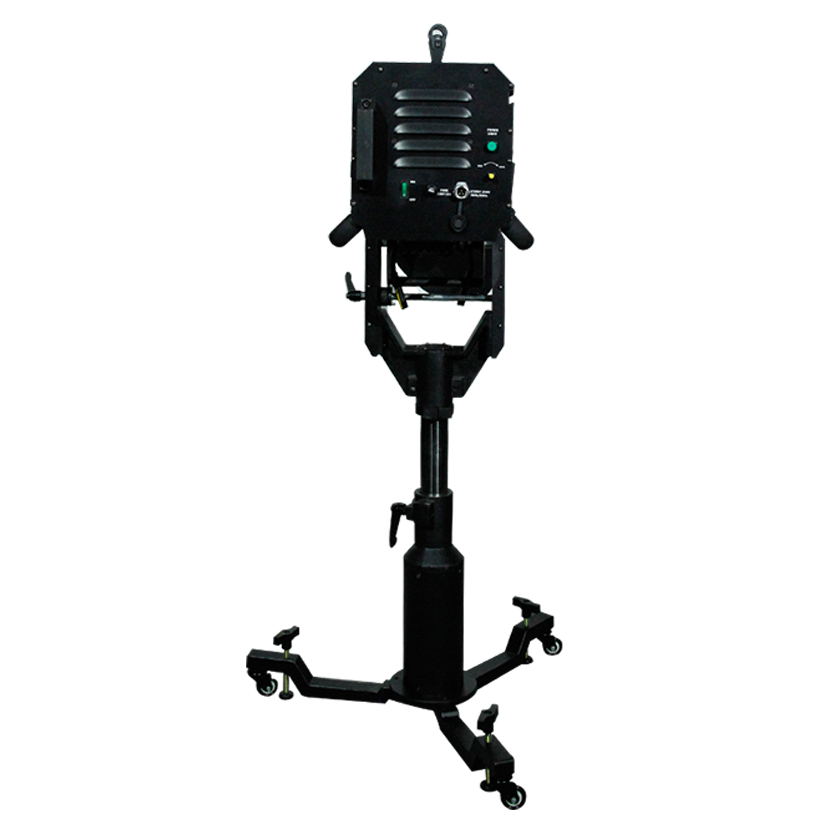 MODEL:ProFollow 600LED SI-182
The ProFollow 600LED is a professional high output long throw follow spot featuring the included 600W 6500K LED lamp, 50000 hours average lamp life, 42000 total lumens, 9000LUX@15m (4°) and high CRI(Ra≧85). The functions include 4°-8°manual zoom, 5 dichroic colors plus white, 0-100% linear LED dimming, frost filter, gobo holder, manual focus and IRIS. The fixture will come with a pro stand with 60° manually adjusting angle. The optimum throw range is 15m-35m.
The ProFollow 600LED is applicable for large scale live concert, theatre, TVstudio, high end wedding, etc.
DownLoad
Technical specifications
Light Source

Source: 600W LED lamp
Color Temperature: 6500K
3000K-6500K Color
temperature adjustment
42000lm (source), 10000lm(fixture)
CRI: ≥85
Flicker free operation
for broadcast TV and FILM
Life Span: 20000H
The life span may vary depending on
several following factors but not limited to:
Environmental Conditions, Power/Voltage,
Usage Patterns (On-Off Cycling), Control,
and Dimming)

Optics

Optimized high definition optical system for
improved photometric performance
and field uniformity
Projector-quality, high contrast
aspheric lens
4°-8°Manual zoom
Flat and even spot image
Smooth manual focus
system with focus knob at the side
Beam edge continually adjustable
hard-to-soft

Color System

Color changer with 5 dichroic colors plus
white (not including color filters)

Gobo System

Gobo holder available (gobo customized)
93*93mm Gobo sheet, 40mm gobo size

IRIS System

Friendly manual IRIS system

Dimming System

0-100% Smooth linear LED dimming

Wash System

Frost filter (Hybrid effect for wash)
Even and soft coverage

Cooling System

Highly efficient low noise multi-zone
cooling of for
maximum reliability and durability

Power Supply

Electronic supply with active PFC
AC100-240V 50/60Hz
700W Power consumption

Housing

Strong sheet metal
construction for durability
Friendly wrap-around handle
with comfort, safety and practicality
from all operating positions
Moving parts on top for easy access to all
parts for cleaning and maintenance
Fast locking parts for easy LED assembly
and replacement

Installation

Pro stand included, with 60° manually
adjusting angle and height adjustable

Operating Condition

Operating positions: device on floor
-25℃ to 45℃ ambient temperature
IP20 protection rating

Compliance


CE
2014/35/EU - Safety of electrical
equipment supplied at low voltage (LVD)
2014/30/EU -
Electromagnetic Compatibility (EMC)
2011/65/EU - Restriction of the use of
certain hazardous substances (RoHS)

Weight

N.W.: 34kg
G.W.: Depending on packing

Dimensions

Product Dimensions:
1155(D)*270(W)*523(H)mm
Packing Dimensions:
1170(D)*540(W)*940(H)mm
(Wooden packing)
1130(D)*560(W)*1030(H)mm (Flight case)
Dimensions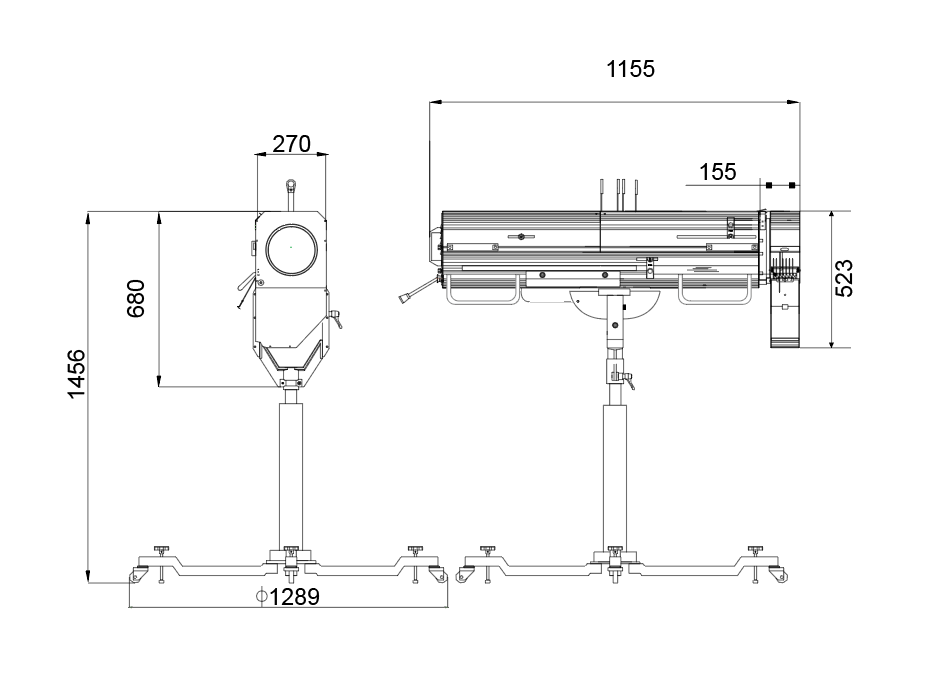 Accessories